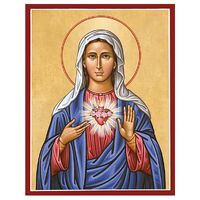 Welcome to The Roman Catholicism Wiki!
This a collaborative website about Roman Catholicism that anyone can edit!
Think of this as a fledgling Catholic Wikipedia, a wiki version of a Catholic Encyclopedia. We follow the time-tested principles of Wikipedia, with the exception of writing from a Catholic point of view (CaPOV).
Thanks for visiting and God bless you. Sincerely, Celtic22, Catholic.Wikia.com Director
Whoops, there are already several similar projects that are farther along than this wiki, listed here: Other Catholic Wikis. Let's discuss whether there is a need for an alternative project.